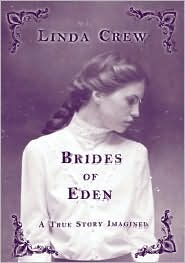 Synopsis:
When, in 1903, the fiery preacher Joshua arrives in sleepy Corvallis, Oregon, Eva Mae - and the whole town - is never the same again. Joshua is wonderful. He's charismatic. Insisting on simplicity, he commands his converts to burn their possessions. Demanding devotion to Christ, he tells them to abandon their personal ties.
But there's a surge of violence rising, and before it's over, families will be ripped apart and lives will be destroyed. Eva Mae's gripping true story is a stranger-than-fiction tale of a turn-of-the-century apocalyptic cult.

Review: A thoroughly fascinating story, made only more so by the fact that it is true. It also struck my particular fancy because I have actually visited many of the towns mentioned within, and I had no idea that such an incredible, thoroughly creepy incident happened in Corvallis and around Yahats and other neighboring towns. And Linda Crew is an author whose research can generally be trusted.

What was probably most disturbing about Brides of Eden was that there are still people - Christians included - who allow crazy individuals like Joshua move their emotions into a frenzy, making all logical thought almost impossible. Such events are not just confined to the spiritualism of the 1800s.
There is very little content to be addressed. There is one bedroom scene, when Joshua informs the women that one of them will give birth to the Second Christ, and he requests to see each woman alone in his private shelter. It is necessary to events, and the Author handles the scene with kind delicacy. Also, there are 2 g--damns, and other references to Joshua having affairs with married women. But nothing explicit.

Brides of Eden is a book which will disturb Readers because it is a true story, but it is really interesting and is a highly recommended historical-fiction read.
Overall Rating:
{{{{